Top Photoshop alternatives (Free and Paid Apps). Adobe Photoshop is one of the great software for graphic designers. Beginners using Adobe Photoshop software will find it difficult to get used to and use it. Proficient use of these features is not easy at all. It requires you to have a certain in-depth knowledge, time and high cost.
However, there are other ways to do photo editing. Instead, you can use other apps which are much faster and more efficiently than Adobe Photoshop. Here are several apps that can replace Adobe Photoshop in most image processing tasks, completely free, and lighter than Adobe Photoshop.
Free apps to replace Photoshop
1. Krita
Krita is a free image editing tool with many of the same options and features as Photoshop that gives the look and feel of real Photoshop . Its toolbar is arranged in a similar way and also has a dark theme by default (you can configure it to be a different theme if you want). In addition, it has support tools like Slice Tool, the ability to open multiple images like Photoshop for free. However it also has a paid version for developers.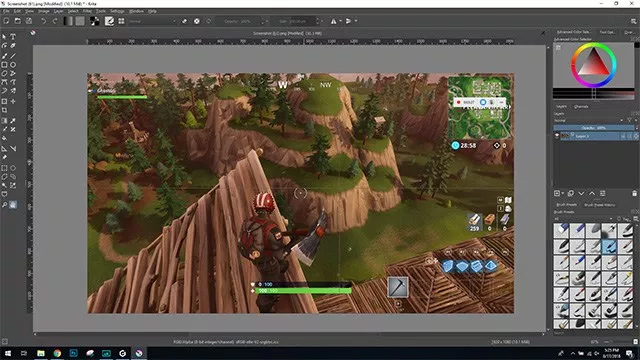 Advantages:
Supports tablets and brushes.
There are templates for different projects.
Supports ruler tools (Ruler and Guide).
There are many effects.
Disadvantages:
There is no undo editing tool.
The Patch tool was delayed to be used on larger images.
Text tools are not as rich as Photoshop.
Camera RAW filter is not available.
Supported file formats : PNG, BMP, GIMP, TIF, TGA, JPEG, WEBP and many more.
Platforms : Windows, macOS , Linux
Price: Free; Paid version available to support developers.
2. GIMP
When it comes to free alternatives to Photoshop, GIMP is one of the top choices. GIMP is a feature-rich photo editing software that can do a lot of things Photoshop can do. However, it doesn't come at the top of this list because there are a number of issues such as multiple preset brushes having the same setting, which is annoying for the user to constantly switch between brushes. Also, GIMP doesn't have the painting capabilities of Photoshop, but it's free and one of the options worth considering when replacing Photoshop.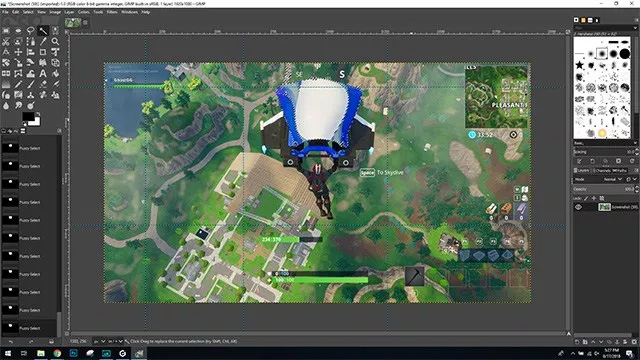 Advantages:
Comprehensive layer support with blending mode.
Supports ruler tools (Ruler and Guide).
Supports image cropping.
Undo toolbar.
Disadvantages:
Old user interface.
Strange and non-intuitive text tool.
Camera RAW filter is not available.
Difficulty in finding tools.
Supported file formats: PNG, JPEG, BMP, TIF and many other formats.
Platforms: Windows, macOS, Linux
Price : Free
3. Paint.NET
Paint.NET was originally developed to be a more powerful version of MS Paint and therefore has as many features as MS Paint. However, it also possesses features that will become of choice for those looking for a Photoshop alternative to Windows. Paint.NET supports layers with blend modes, which is one of the most used features in Photoshop. In addition, it also has a History tool, convenient for quickly undo edits. It's basically a good tool for image editing, although it's not as powerful as Photoshop.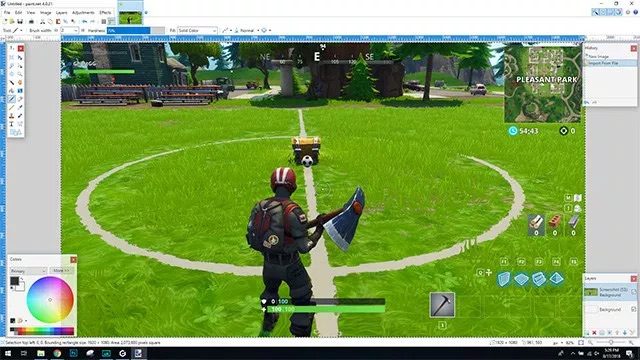 Advantages:
Supports layers with blending mode.
Undo tool.
Pretty good at basic photo editing.
Supports ruler tool.
Supports many file types.
Disadvantages:
Old user interface.
Guide tool is not supported.
There is no Camera RAW option.
There are no cropping tools, patch tools or the Spot Healing tool.
Does not support automatic windows snap.
Supported file formats: PDN, BMP, GIF, JPG, PNG, TIFF, TGA, DDS
Platform: Windows
Price: free, optional paid version available for developer support.
4. Pixlr (Windows, Mac, Web, Mobile)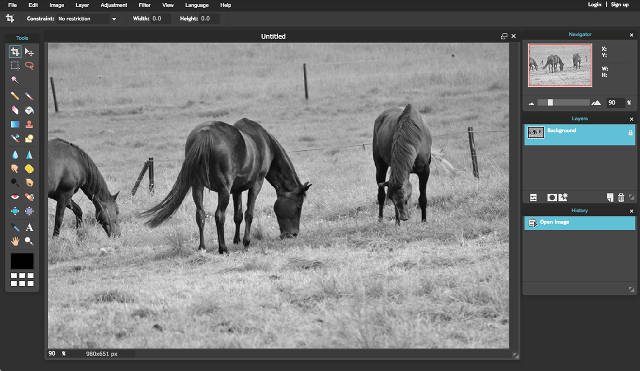 Pixlr is an excellent cloud-based photo editor developed by Autodesk, co-producer of products like AutoCAD, Cloud, and 3DS Max. Pixlr doesn't have "industry standard" quality, but it's packed with useful features.
The best thing about Pixlr is that you can access it from a browser or download it to your computer or use it as a phone app. The web version allows for online photo editing, and the mobile version is completely free, while Windows and Mac have a free but limited-per-feature version (the full version is $15 / year). .
5. Seashore
Seashore is another Photoshop alternative for Mac users. It owns some important Photoshop features such as support for layers. The software also features Pressure sensitivity, suitable for anyone on a tablet. Seashore is easy to use and suitable for beginners and completely free.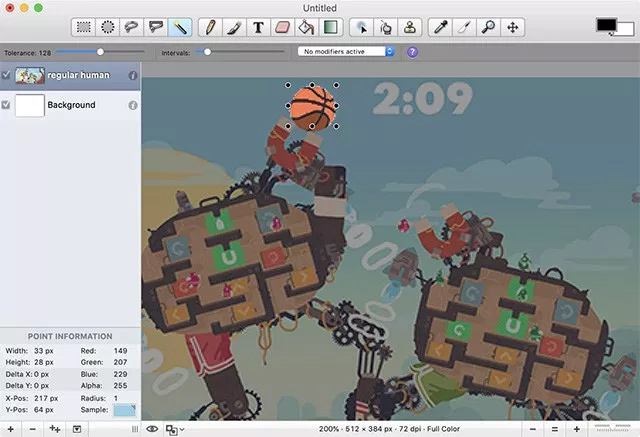 Advantages:
Support classes.
All free.
Support pressure touch pen when using on tablets.
Easy to use.
Disadvantages:
Outdated user interface.
No effects.
Grid cannot be customized.
PSD files are not supported.
Supported file formats: JPG, PNG, GIMP, TIFF, GIF
Platform: macOS
Price: Free
6. PhotoScape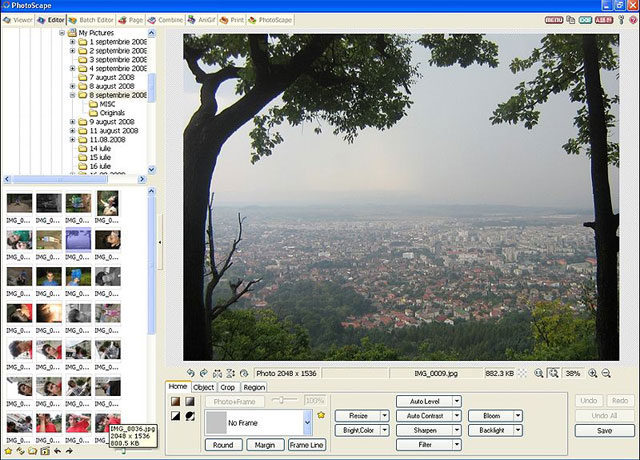 PhotoScape is not as powerful software as GIMP or Paint. However, it has the advantage of being easier and faster to use. The tasks presented in a simple and scientific way. Users who do not need much knowledge about computers can easily start using them.
Platform: Windows
7. Inkscape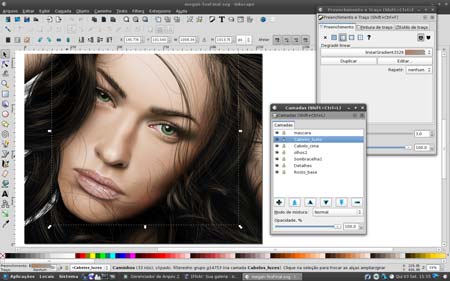 Inkscape is a completely free alternative to Adobe Illustrator, CorelDraw, Xara X. This is an open source program with a vector graphics editor that supports advanced SVG features such as markers, clones, alpha blending.
Platforms: Windows and Mac.
8. Picasa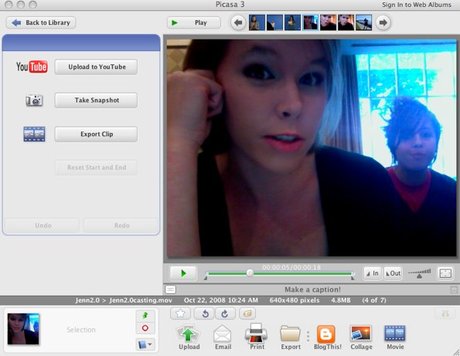 Picasa is an easy-to-use software, advanced in image color correction, red-eye removal, album arrangement, etc. It synchronizes online album data, markers images on the map (Google Maps). , Face Recognition. Google bought Picasa and is now quite popular in the world.
Platforms: Windows, Mac, Linux
9. PhotoPlus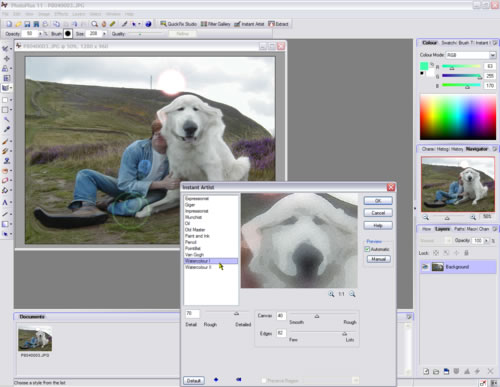 PhotoPlus is a great free image editor with a host of easy-to-use features, a formidable opponent of some of the advanced graphic editors, a tool panel similar to Paint Shop Pro. . For the pros, PhotoPlus supports layers and masks, with a particular interest in web design, it allows you to apply distorted text, create animated GIFs, and crop images/ authoring capabilities. The map then automatically pops up the HTML request. It also offers 25 special effects filters (your own options) as well as a collection of 20 ready-made image selection tools. It easily imports and exports up to 15 different file types including Photoshop (*. PSD) format.
Platform: Windows
10. PhotoFiltre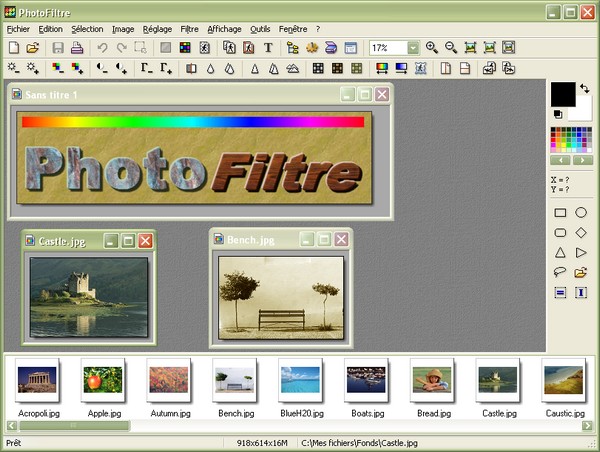 PhotoFiltre has a full featured photo editor and graphic editor for beginners, no need to work with layers (If you don't know anything about layers, this program is perfect for you). It allows you to import from sources and it can save up to seven different file formats including GIF, JPG and PNG. Small file size, nice and intuitive interface. Includes clone, magic wand, gradients, ready-made, shapes, special effects filters and more. There are also 27 free plugins available to enhance your capabilities.
Platform: Windows
Paid Photoshop alternatives
1. Clip Studio Paint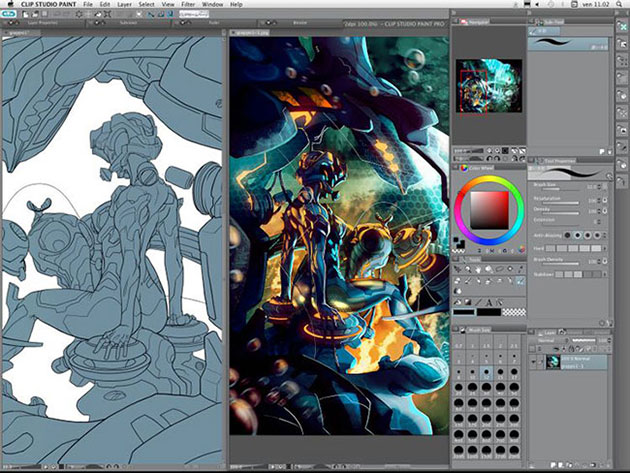 If Photoshop is the first thing that comes to mind when you hear the phrase "professional editing software", then Clip Studio Paint will be the second option.
Clip Studio Paint Pro has all the essentials of a digital art software, like the layer system and typical image adjustment tools, and also has some features that competitors have to dream of. convention, such as the ability to import 3D references and an extremely large library of ready-to-use materials. If you buy Clip Studio Paint Ex, you can even convert your works into videos or draw multiple pages of comic books.
On top of that, Clip Studio Paint is available on both PC (Windows and Mac), as well as mobile / tablet devices (Galaxy Store and App Store). Depending on which device you choose, the free trial of Clip Studio Paint can last up to 6 months. Once it expires, you have the option to purchase the Pro version for $ 49.99 or the Ex version for $ 219.
2. Painter
Originally created by the founders of Fractal Design Corporation, Mark Zimmer and Tom Hedges, this raster graphic editor (now owned by Corel Corporation) does an excellent job emulating art creative vehicles. traditional techniques, such as graphite, oil paint, charcoal and crayon, etc. If you are a new traditional artist entering the digital world, this program definitely worth a try.
Photoshop and Painter have been rivals since its inception. Because of this, the two programs have many similarities (e.g. interface, classifier, canvas control functions, etc.), but it is these similarities that have become the norm. yes to the image editing apps launched since then.
Painter's most notable features include in-depth brush controls and a customizable Palette Drawer, which always lets you experiment with shapes, paper textures, and palettes. After 30 days of free use on Windows PC or Mac, you can choose to pay $199/ year or purchase a perpetual license for $429.
Download Painter (free trial available)
3. OpenCanvas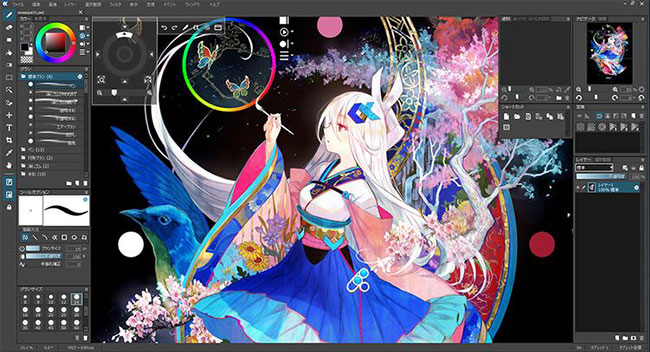 PGN Corp first developed and published openCanvas in 2000, making it a piece of software often compared to programs like Photoshop and Painter. OpenCanvas is often hailed as the most beginner-friendly alternative.
The latest version of openCanvas has a brush tool with over 150 default brush preset settings, smooth pen stability, and lots of filters and layer modes for you to take your artwork to the next level. new.
The most unique function of openCanvas is the Event Tool, which allows you to record and replay your drawing. Using it, you can choose to continue work on your work at any point during the GIF animation or recording process.
After the 120-day trial period, you will need to purchase the program for $59 on the official website or through Steam. The program is only available for Windows.
4. Wrong Paint Tool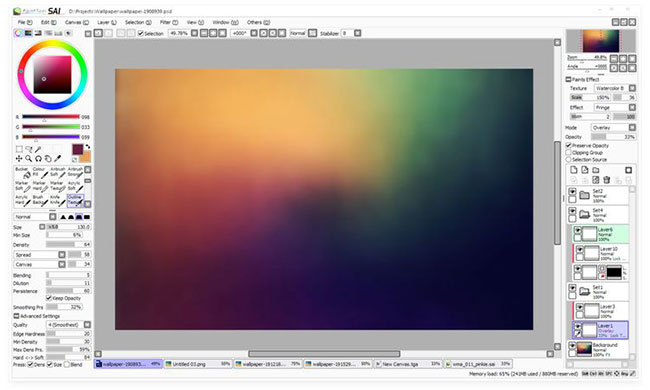 In 2004, Systemax Software started to develop Paint Tool Sai, a drawing software for Windows in a way that is compact and comfortable to use but still produces high quality works.
Paint Tool Sai has quickly gained popularity over the past few years. While the program lacks filters, polygon tools, and text functionality, it boasts extremely accurate 16-bit color channels, customizable hotkeys, mirror functionality, as well as all. function to adjust and transform standard.
You can activate a free 30-day trial, and then make a one-time purchase for around $ 53, if you decide to choose this program.
5. ArtRage
Like Painter, ArtRage is designed to be as close to real life as possible. The biggest highlight of this program is undoubtedly its range of better traditional media emulation tools than its contemporaneous options.
Using ArtRage, you can draw, apply, fade, and mix tools and colors on all sorts of different papers. All tools can be customized to your liking in the form of a Sticker or you can choose to use an option from among the presets. Stencil is a unique feature that allows you to use layers just like you would a scrap paper. You can combine palettes or have a reference image on the side. ArtRage also has an active online community where users come together to share resources.
You can download ArtRage demos without worrying about registration or expiration. However, to save the file, you will need to purchase the software on a PC (Windows / Mac) for $79, on an iPad for $4.99 or on an iPhone for $1.99.
Download ArtRage (Premium version available, free)
6. Procreate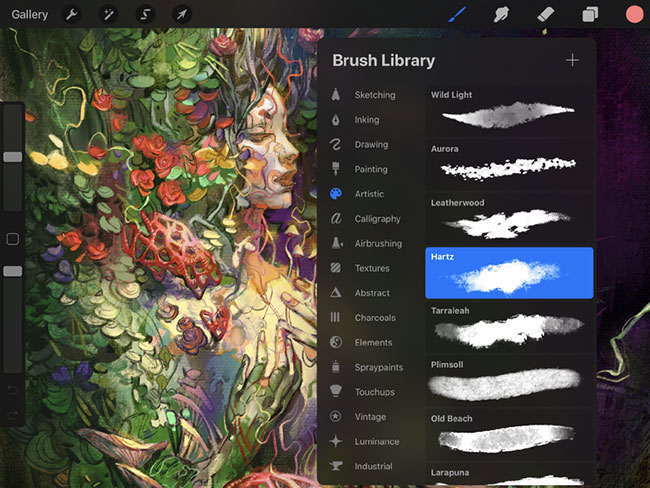 Released by Savage Interactive in 2011, Procreate is the newest software on this list and a great Photoshop alternative for those who love to work on the go.
Procreate aims to reproduce a natural drawing feel while leveraging a digital workspace. You can play around with over 130 brushes, autosave functions, 4K canvas resolution, the ability to create text and animations, and some of the most powerful filters, Blend Mode and Mask. Procreate is also designed to support multi-touch and Apple Pencil.
Procreate is a one-time purchase on the App Store for iPhone and iPad.
Top Photoshop alternatives – Websites that replace Photoshop
As mentioned above, Adobe Photoshop is the king of image editors, but its price is a bit high. But don't worry as you can get most of the best features of this software for free through a few online photo editing tools .
The online tools here are by no means popular cloud-based photo editors like Pixlr, PicMonkey, SumoPaint, etc. These are little-known image editors that make it easy for users to apply. Apply basic effects to your photos.
Naturally, none of these apps are as powerful and full-featured as Photoshop because Adobe has hundreds of engineers working every day, while these online applications are often the work of enthusiasts.
Photopea: The best free online Photoshop alternatives
There's no doubt that Photopea.com is the best free online photoshop alternative. Forget Pixlr, SumoPaint or any other tool you've tried. Using Photopea gives the user an experience almost identical to that of Photoshop.
This web application looks like Photoshop, so users can get used to it right away. Detailed instructions are also available for users to find out for themselves how to use any of the features. All popular Photoshop features are available, like clone stamps, layers, filters, etc. You can even open a PSD file or save the image as PSD if you want.
The best part about Photopea is that it does everything offline, so your photos are never sent to the cloud. Open the website and the rest of the work is done on your computer. That not only makes editing faster when working online, but also helps protect user data.
Photopea has been around for a while, but its "hot" has never decreased. After receiving some great updates, the tool has grown in popularity. Try the Photopea tool now, especially if you're a Chromebook user.
Mara.Photos with lots of tools and effects
Mara.Photos has a host of free online photo editing tools. Mara.Photos did not really hit when it launched, but it is a great and simple photo editing app. Mara.Photos has a wide range of effects, filters and tools. All of which can be applied for free for image editing.
First, you need to choose the effect you want to apply. Options include Resize, Crop, Rotate, Type, Sketchpad, Pop, Vintage, Art, Frame, Overlay, Stickers, Converter, Auto Fix, Red Eye, Color Picker / Converter, Dropper, Brightness / Contrast, Hue / Saturation, Vibrance, Curves, Blur, Sharpen, Smooth, Noise, Grayscale (Black & White), Threshold, Vignette, Pixelate, Mosaic, Straighten, Skew, Perspective, Twirl, Bulge / Pinch, Wave, Splitter, Color Tint, Bump, Invert Colors , Palette Extractor, Optimize Palette, GIF Editor, APNG / AWebP Editor, Mirror, Kaleidoscope, ASCII Art, 3D Anaglyph, Glitcher, RAW, EXIF, PNG Metadata, Steganography, ANSI Art, Vector Graphics Editor.
Then you can upload the image from your desktop, iCloud drive or URL. Each effect can make many adjustments and levels before applying. And once you've applied the effect, you can still switch to another tool or effect.
Remove BG: Automatically remove the wallpaper
Remove.BG allows users to automatically remove the background of an image with just one click. That is wonderful. In Adobe Photoshop, the magic wand tool allows the user to select the main subject of an image and then delete the background in the image. And now users can do it online for free with Remove BG.
Try this tool out to see how well it works. Upload photos from your computer or paste the URL. Remove BG will work for a few minutes and then you will get a result comparing the 2 before and after versions of the image. You can download and save finished products to computer for free and without any watermark. Great!
Remove BG is by far the best online tool in this regard. Others do not provide the same accuracy or cost users to remove watermarks. Bookmark this tool as you inevitably need it.
Promo Social Media Resizer: Any size, all at once
This isn't technically a Photoshop feature, but the Photoshop scripts make it easy to convert an image into a variety of sizes, to fit a wide variety of social media with just one click. click. And now you can do it online with this handy tool from Promo (https://slide.ly/promo/image-resizer/).
This tool is very easy to use. First, upload an image from your computer or add a URL. Then scroll down to select the desired image size types. Promo has templates for everything you need in Facebook, Twitter, Instagram, YouTube, Pinterest, LinkedIn, Snapchat, Email and Blog, and Google Display. These include all types of images: profile photos, cover photos, stories and any other space where you can upload images.
The downloaded package contains the compressed files with the type of image in the file name, so it's easy to know which images to upload where. This is a great tool that makes life a lot easier.
There are loads of options and features in Photoshop that aren't for everyone. Many users just need something simple, like tools like Remove BG and Promo that provide a one-click option to do the job well.
Above are recommendations from the Network Administrator for the best alternatives to Photoshop. If you know any other tools that the article hasn't covered yet, feel free to leave your comments in the comments below!
Wish you find the right choice!
Top Photoshop alternatives (Free and Paid Apps)