Lunar New Year Celebrations in 2021 All You Need to Know. The holiday is about luck, health, and reuniting with family. The Lunar New Year, most commonly associated with the Chinese New Year or Spring Festival, typically falls sometime between January 21 and February 20 annually. Lunar New Year 2021 is on February 12, and it's the Year of the Ox.
Lunar New Year is the beginning of a calendar year whose months are cycles of the moon. The relevant calendar may be a purely lunar calendar or a lunisolar calendar.
Here's what to know about Lunar New Year traditions, and what more than 1.5 billion people do to celebrate it.
Lunar New Year isn't exactly the same as Chinese New Year
The Lunar New Year isn't only observed in China, it's celebrated across several countries and other territories in Asia, including South Korea and Singapore. In Vietnam, Lunar New Year is known as Tết, and in Tibet it's Losar. In the U.S., though, it's most commonly associated with what's often called Chinese New Year, the American version of China's 15-day-long festivities.
Lunar New Year is also called Lunar New Year's Traditions 2021
That name was popularized after Communist Party leader Mao Zedong took power in China in 1949. "The term was coined before the Communists, but it was used extensively by the party to replace 'the new year,' because they tried to get rid of anything that's old—all of the superstitions and religion, including the celebrations," says Kian Lam Kho, chef and author of 9 Phoenix Claws and Jade Trees: Essential Techniques of Authentic Chinese Cooking. During the Cultural Revolution from 1966 to the year Mao died in 1976, the traditional lion and dragon dances were also a point of contention, according to History.com.
Nowadays, Kho explains, "in mainland China, almost everybody refers to the new year as Spring Festival. But if you're in Hong Kong, Taiwan, or anywhere else in most of the Chinese diaspora, they're still calling it 'new year.'"
Spring Festival is normally a 7-day vacation
Lunar New Year traditions include the Dragon Dance and the distribution of red envelopes filled with money
Upside-down fu characters: On Chinese New Year, you'll commonly see a calligraphy character on a square of red paper, hung in a diamond shape. The character, 福 [fú], which means good luck, is hung upside down for Lunar New Year. The word 'to arrive,' or to begin, is a homophone for the word for upside down. Through this bit of pictorial wordplay, the symbol effectively means that good luck is arriving, or pouring down on you.
Red pockets full of money:
Known as lì xì in Vietnamese or hóngbāo in Mandarin, in China they're traditionally gifted from an elder or parent to children, or really anyone who's unmarried.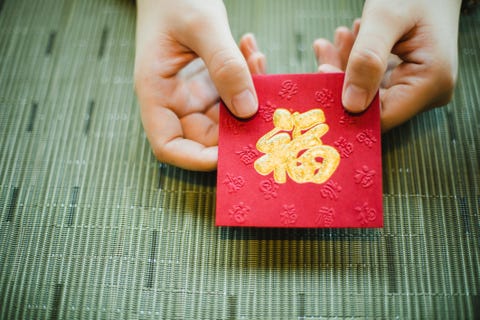 The Dragon Dance features visible puppeteers holding poles as they make the dragon move in a flowing motion. 
Taboos and superstitions attract good luck on Lunar New Year
Again, attracting—and carrying over—good fortune into the next year is a major theme of the holiday, and so is protecting against bad fortune. With that comes a lot of superstitious practices.
There are lots of little things you are supposed to do, and not do: You're not supposed to cry, and you're not supposed to argue—only talk about good, happy things. This will set the tone for the future days.
Pay back your debts before the new year starts or it's bad luck.
Don't cut your hair on the Lunar New Year—in fact, stay away from scissors altogether. 
Avoid wearing black or white, as they're associated with mourning. To attract luck, you have to wear red.
Don't do laundry on the first or second day of the new year, because these two days are celebrated as the birthday of Shuishen (水神, the Water God). Avoid washing your hair too, lest you wash your good fortune away.
Don't sweep after Lunar New Year's Eve, the site adds, or you'll be sweeping away accrued wealth and luck.
Several traditional Lunar New Year foods also carry extra meaning in China, because the way they're pronounced is a homophone for another luck-related word. For example, "the pronunciation for 'fish' in Mandarin and many other dialects is 'yú', which is the same pronunciation as 'leftover'," Kho says. "The idea is that every year, you want an abundance of food or wealth, so that you have it left over for the next year."
Lunar New Year celebrations in 2021 will likely look different
It remains to be seen how the coronavirus pandemic will affect Lunar New Year celebrations in the U.S. and in Asia. Hong Kong, which was in partial lockdown as of December 2020 due to a fourth wave of infections, has canceled their iconic parade and their fireworks for the coming Year of the Ox. San Francisco has canceled their festival and parade as well. It's also unclear how COVID-19 will impact the yearly Chunyun travel rush, if at all (millions of Americans traveled over the 2020 Thanksgiving holiday, against public health recommendations).
But rest assured, these beautiful traditions aren't going anywhere, as they matter to so many people. "I don't think you'll ever see Chinese Americans in the U.S. not celebrate," Maasbach says.
Lunar New Year celebrations in 2021