Tet beautifully recreated with Lego. On February 15, Lego company's fanpage with more than 14 million followers introduced a collection of traditional Vietnamese dishes on Tet holiday, composed by Huynh Cao Vu Khang, 31 years old Saigonese.
All of the dishes such as stewed meat, banh tet, bitter melon were also voted as "the work of the week" by Lego, which attracted more than 11,000 likes and 3,000 comments just after two days of posting. (Original post in Vietnamese: https://vnexpress.net/chang-trai-sai-gon-tai-hien-tet-bang-lego-4236289.html)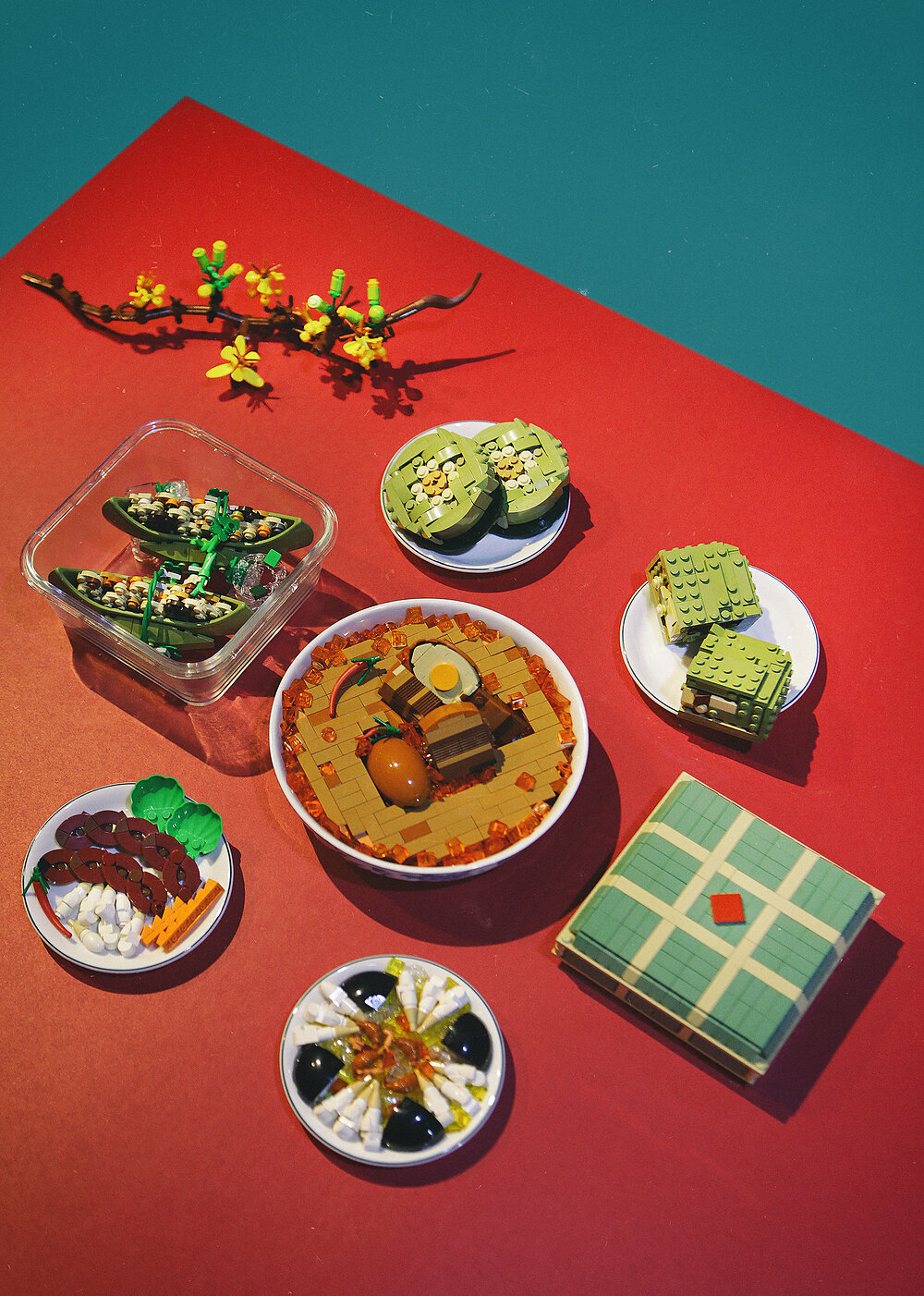 Khang (31 years old) is a freelance designer from Saigon. He has played Lego since 4 years old.
Tet dishes was made by Khang in December 2019. The idea came up unintentionally when a young man saw a piece of Lego in the form of a dark orange half-egg, very similar to "hot vit lon" (an egg containing a developing duck embryo). "Since then, I created many Vietnamese food lego on a Tet tray," said Khang.
More "dishes" on Tet with Lego by Huynh Cao Vu Khang:
Conceptualizing has been a difficult task, it is even more difficult to "hunt" those important Lego pieces suitable for the work. Creating yellow apricot branches was the most difficult thing for Khang, because he has to find a piece of Lego to make it look like a lively apricot blossom. After days of thinking, he chose two types of airplane propeller pieces. However, because these two types of pieces are old and not much available, it is difficult to find and buy. Khang has to order them from many stores in Thailand, Germany and the US. He had to wait 3-4 months to have enough "ingredients".
In total, the project "Tet Holiday" uses about 5,000 lego pieces, completed in about a month. From the original purpose of "mainly for fun", Khang's works now introduce traditional Vietnamese New Year to international friends. Many overseas Vietnamese share these pictures that remind them of their homeland's traditional Tet.
This year, instead of reenacting the food, Khang makes himself "a pot of apricot blossom". It is 35 cm high. Thanks to ideas and experiences from the branch of apricot blossom on Tet, it took Khang only two weeks to complete this "pot of yellow apricot blossoms".
Besides "pot of yellow apricot blossoms", Khang joined with a friend's project "Tet is coming" to describe the atmosphere of the days before Tet by recreating a corner of Saigon street with CEE transformer station and trading activities – selling flowers and flags for the purpose of introducing and promoting Vietnamese culture.
In addition, the 31-year-old Saigon guy is pursuing a series of works named "Familiar" in order to describe familiar things and street corners in everyday life such as train stations and ships, a motorcycle of the florist, and barber shop.
During the pandemic, the works from toys not only entertained Khang but also spread the optimism and positive energy to others. "Either way, life has to be fun," the guy said.
Visit Khang's Instagram:https://www.instagram.com/khanglego/?hl=en
Tet beautifully recreated with Lego
Original post in Vietnamese: https://vnexpress.net/chang-trai-sai-gon-tai-hien-tet-bang-lego-4236289.html
Photos and videos' resource: Khang (Instagram:https://www.instagram.com/khanglego/?hl=en)