Hanoi Top Delicious Winter Dishes
Winter has poured in all over the streets of Hanoi. This is always the most anticipated time of the year not only because everyone can enjoy the very cold air of the North but also the hot and delicious dishes. Let's check out the top delicious winter dishes in Hanoi that you must try if you do not want to regret it!
1. Hot plain rice flan
In the winter, there is nothing better than a chance to eat this hot plain rice flan (Banh duc). This dish is actually a different version of the traditional Banh Duc, instead of being cut into pieces, we eat it while it is still hot.
To make a delicious hot Banh Duc, it is necessary to prepare a lot of different ingredients, meticulously and intricately. Banh Duc will be served with a typical sweet and sour sauce, stir-fried meat with wood ear fungus, coriander and dried onions. Some sophisticated restaurants also add fried beans to this dish. The dish looks creamy, filled with rich dipping sauce, blends with other ingredients to create a taste that you can hardly forget. The price of a bowl of cast cake ranges from 15,000 to 20,000 / bowl, delicious standard – nutritious – cheap, very suitable for afternoon meals.
A famous place to enjoy hot Banh Duc in Hanoi is an eatery on Le Ngoc Han street. The shop is located in a small alley. This is definitely one of the culinary handbooks that you must enjoy this winter.
2. Tangyuan
Tangyuan or tang yuan is a Chinese dessert that is a ball of glutinous rice flour and water that has been either boiled and served in a hot broth or syrup or else deep-fried. Tangyuan can be either small or large and filled or unfilled. Tangyuan is made from glutinous rice, green beans, black sesame, ginger, fresh coconut, sugar, and peanuts. A bowl of Tangyuan will usually consist of 2 balls, a round ball of green beans and an oval shaped ball of black sesame seeds. The difference in shapes will help sellers more easily distinguish the two types of ball.
Tangyuan has the soft taste of the dough, the pulpy taste of the filling inside, along with the hot ginger sauce, after eating, you will feel sweet potato. The price will range from 15 – 20,000 / bowl. 
The most famous Tangyuan restaurant in Hanoi is Pham Bang on Hang Giay Street. The food here is kept true to the traditional taste of Hanoians. 
3. Fried rice cake (Banh Chung)
In winter, this dish is very popular with many people. This is an easy dish to cook. If you are a Hanoian, you can hardly forget Banh chung, fried on large plates.
The cake only needs to be fried slightly on the sides, along with a little soy sauce, melon can be ready to serve customers. If you want it to be more sophisticated, you can add a little sausage or meat skewers. This dish has a greasy and fragrant flavor of the cake, of the inner filling, but it is neutralized by the melon salad to help eaters not feel too heavy.
The famous Hanoi Banh Chung places that you can go is Pham Hong Thai Banh Chung ran at Dong Xuan market.
4. Banh gio (pyramid-shaped rice dumpling)
Pyramid-shaped dumpling is filled with minced pork, black forest mushroom, wood ear mushroom, black pepper, chopped shallot, and carefully wrapped in banana leaf. The dish is simple to make and can be eaten on the go.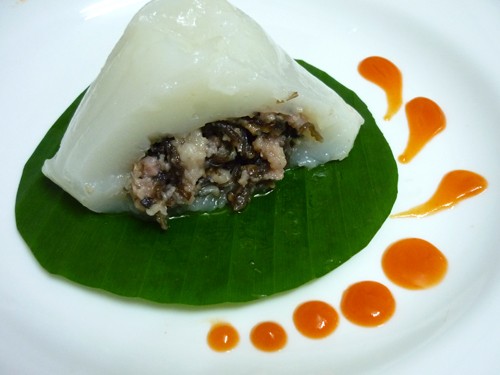 The dish is simple to make and can be eaten on the go
You can eat this with a variety of toppings such as skewers, pickles, sausages, and spring rolls. 
You can come and enjoy it on Thuy Khue St,, Nguyen Cong Tru St.
5. Variety of donuts
Next winter is the season when the donuts dominate. This dish is a dish that has been associated with the youth of many generations, delicious – nutritious – cheap, extremely easy to make. The ingredients for the donut include a mixture of flour, sliced ​​potatoes, a few ripe bananas, peeled corn and a hot oil pan to fry. This type of cake, you can buy anywhere, without having to go to famous or remote restaurants.
6. Fried Breadsticks
This delectable Fried Breadsticks (Quay) recipe is made of a simple dough deep-fried to golden perfection. Puffy and crispy on the outside, chewy and airy on the inside, these uniquely conjoined Fried Breadsticks are amazing hot and fresh.
Each plate price fluctuates from 15,000 to 20,000 VND, quite cheap to have a warm snack for a cold winter afternoon. You can enjoy this delicious hot dessert dish at Hang Bong, Cau Go, Ly Quoc Su, Nguyen Luong Bang, Truong Dinh, Dai La, and Bach Khoa.
7. Grilled corn, baked potato
Corns and sweet potatoes are baked on the charcoal stove, bringing in a very simple taste, a sweet, fragrant aroma. That alone is enough to turn the rustic delicacies. This becomes a special dish in the heart of every Hanoian.
8. Hotpot
Hotpot is a dish all year round throughout the month. But winter is really the season to eat hot pot feels the best. The cold of winter is soothed with a stench of hot pot, making everyone eat and blow. Hot pot has a variety of hot pot types from chicken hot pot to seafood hot pot, Thai hot pot, each has a different taste and the price is different from each place. In winter, sitting with friends, by the hot pot, with a little wine, there is nothing like that. An average hot pot costs between 300,000 and 400,000 / pot, depending on the number of people eating.
9. Grill meat
Meat, roasted or grilled offal is definitely a popular winter dish. Especially for couples in love or groups you want to gather, this is definitely a suitable dish. Gathering together in a baking pan, with grilled meat fragrant, rich flavor is an experience that you should try in winter Hanoi. The price of each meal will range from 150,000 to 200,000 / person. Compared to the above dishes, the price of this dish may be a bit more expensive, but this is also completely reasonable because it can completely replace a main meal.
Ma May barbecue, or Gam Cau barbecue are the barbecue restaurants that you cannot ignore in Hanoi. In addition, there are now a lot of Korean-style barbecue shops that are sprouting up for you to come and enjoy.
10. Boiled snail
The simple and dear boiled snail dish seems to be the "easiest to do" but there is nowhere like Hanoi. It was freezing, sitting next to the fragrant boiled snail bowl, taking out the snail inside and placing it in the transparent orange sauce. The sauce is sour, spicy, salty, sweet enough, blending into the crispy crunch of a small snail, that makes my mouth water!
Hanoi Top Delicious Winter Dishes